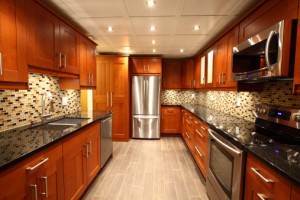 At RG Fine Finishing, we'll reinvent those tired kitchen cabinets from your Sebastopol home. Instead of spending thousands on brand new cabinets that likely still won't match your taste, allow us to create you a set of custom cabinets from unfinished wood or your existing materials. Kitchen remodeling is expensive, time-consuming work, and you deserve to achieve the exact vision you have in your head. We'll help you get there!
Our owner, Rich Geernart, has been working in the refinishing industry all his life. Whether you're remodeling your bedroom or breathing life back into family heirlooms, he'll provide quality, personalized work every time. Kitchen cabinets are one of his specialties, and he's been providing custom work to Sebastopol residents for many years. Custom cabinets can change the entire look of a room, giving it a personalized touch that you simply can't purchase off a shelf. Home improvement stores only feature a limited selection of the most popular products, and if you'd like something more suited to your tastes, you'll likely have to have it specially created and shipped. The price tag for something like that can climb very quickly. Even if your current cabinets are looking worse for the wear, they can be restored. It's our specialty!
We're happy to restore kitchen cabinets, bathroom cabinets, bedroom cabinets, furniture, and much more. Find us at 2661 Gravenstein Hwy S in Sebastopol, or call 707-829-2988 to discuss the work you'd like done. Rich takes pride in building personal relationships with every client, so come say hello!