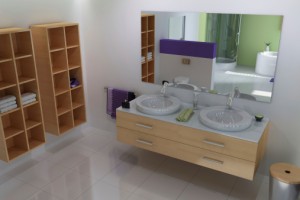 If you're having trouble finding the right bathroom cabinets for your Sebastopol home, you may want to consider custom refinishing. Instead of picking out off-the-shelf items at a home improvement store that may just be "good enough," have custom cabinets created to match your exact vision and specification. Bathroom remodeling is a big commitment, and you deserve to have a room you're 100% happy with in the end. We'll help make that happen.
All his life, RG Fine Finishing's owner, Rich Geernart, has performed quality refinishing work for the Sebastopol area and beyond. From kitchen and bathroom cabinets to beloved heirloom furniture, we can match any finish or give something an entirely new look. We can match any paint or varnish to restore tired-looking wood, or replace the existing finish with the stain, varnish, or paint of your choice. Your bathroom remodeling project can take up a significant portion of your budget, so it pays to be able to save wherever you can. If you think that your current hardware is too beat up to reuse, you might be surprised. Let us take a look and we'll let you know if it's salvageable. More likely than not, it is. Good refinishing work isn't just about skill – it's also about artistry. We take your personal tastes and requests into account when we refinish your project, so you'll get something that's unique and completely "you."
If you're having a hard time finding bathroom cabinets that are "just right," contact our Sebastopol workshop. We're located at 2661 Gravenstein Hwy S, or you can give us a call at 707-829-2988 to talk about what you need done. We love meeting new people and getting to know our customers, so we're looking forward to hearing from you!